横河发布全新示波记录仪DL950
作者:admin
时间:2023-09-11 03:00
浏览:
横河发布全新示波记录仪DL950 ScopeCorder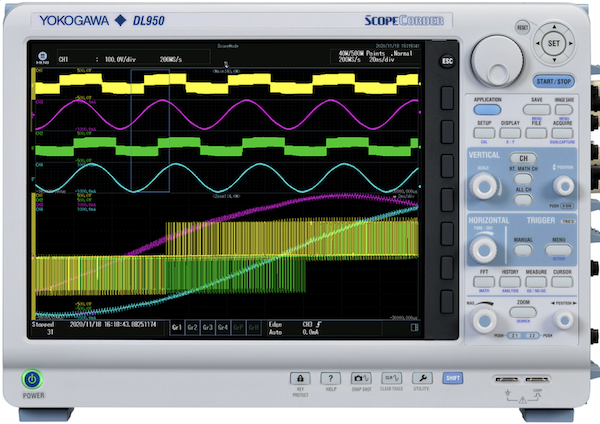 横河发布全新示波记录仪,
DL950 ScopeCorder,横河
示波记录仪
DL950拥有
200Msa/s采用速率,大8G内存,
横河
示波记录仪
DL950
具体特点
Insight into the finest waveform details
200 MS/s high-speed sample rate
8 G points large memory
Long recording to internal flash memory at 20 MS/s
10 Gbps Ethernet high-speed data transfer
Up to 16-bit analog resolution
Versatility to discover more
8 input module slots
Up to 160 synchronized channels
A variety of isolated plug-in modules
Easy to use
Newly designed application menu
12.1-inch large touch screen
New high-speed module and 10 Gbps Ethernet
200 MS/s 14 Bit Isolation Module
Accurately captures switching waveforms of inverters and fastmoving noises around the power supply.
Isolated input of up to 1000 V
ADC resolution 14 bit
Wide band of 40 MHz
Up to 20 seconds of continuous acquisition
10 GE data transfer (/C60 option)
Using 10 Gbps Ethernet, up to 10 MS/s of data can be stored in real time on a PC. An SFP+ module, a fiber optic cord, and the PC software IS8000 are used for data transfer. *Please use a commercially available SFP+ module and a 10 GE fiber optic cord.
Versatile and integrated measurements
Multi-unit and instrument synchronous measurement
Multi-unit synchronization of up to 160-CH (/C50 option)
The number of channels can be extended up to 160 by connecting up to four sub units to a single main unit with optical fiber cords. Synchronize measure start/stop, trigger, and sample clock of the sub units from the main unit.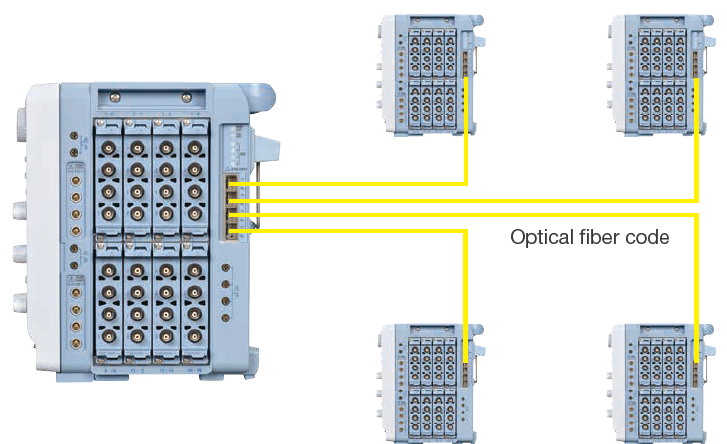 IEEE1588*/IRIG and GPS time synchronization (/C35, /C40 option)
Time synchronization with IEEE1588 signals is available. With the /C40 option, the DL950 can output IEEE1588 master signals. Time synchronization using IRIG and GPS is also available (/C35 option).
Applications *Please use the Optical Transceiver Module 720941 and the Fiber Optic Cord 720942
Battery cell evaluation
Multi-point vibration analysis
Multi-point strain test
Application-Driven Menu
Easy access to frequently-used applications
Touch any application icon and the graphical setup screen appears. Intuitively change the settings prior to measurement by following the wizard screen.
Motor and inverter test
Power and harmonics analysis (/G05 option)
A single DL950 is all you need to evaluate a system with battery-driven motors, such as an EV. The DL950 calculates the conversion efficiency from the input and output power of the inverter and analyzes the effects of harmonics caused by external disturbances while capturing mechanical variations in motor speed and torque.
Encoder rotary angle (/G03 or /G05 option)
The DL950 can calculate the rotation angle from the pulses output from an encoder and display the trend of the rotation angle as a waveform. The rotation angle and its control signal can be simultaneously observed and inspected for abnormalities.
Long term data recording
Dual capture function
For durability testing, it is necessary to capture transient phenomena with a high-speed sample rate, even when monitoring low-speed data to visualize long-term trends. The dual capture function uniquely resolves these conflicting requirements by simultaneously recording at two different sample rates.
Physical phenomena analysis
Strain gauge transducer measurement (/G03 or /G05 option)
Load, pressure, and acceleration can be measured by connecting a strain gauge-type transducer such as a load cell or torque sensor. This feature automatically calculates conversions from cumbersome calibration values and enables easy setting.
Power line analysis
Power line abnormality detection (Wave Window Trigger)
Special triggers are used to detect frequency fluctuations, voltage drops, and other phenomena that are difficult to detect with ordinary triggers. These triggers can also be used to detect typical power supply problems such as momentary power loss, sags, and surges.